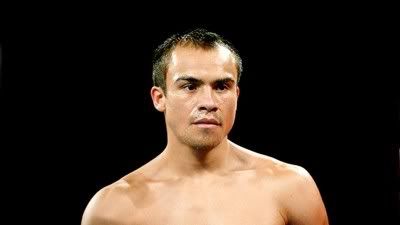 "I just don't think Marquez holds that weight really well," boxing coach Ron Frazier cited. At a 144 pound catch weight, Juan Manuel Marquez will be at a disadvantage against Manny Pacquiao. Frazier who trained the likes of UFC superstar Randy Couture and MMA heavyweight Gabriel Gonzaga, thinks the added weight will slow down Marquez.
The weight factor, he said, will be important when Marquez fights the lightning quick Pacquiao on November 12. "I think that he could probably make 130 from I've seen when he's come by our gym a couple of times. He's not a big guy at all," he said.
Marquez the reigning WBA and WBO lightweight champion, currently fights at 135 lbs. He agreed to face Pacquiao for the third time at the 144 lb. catch weight. Pacquiao the WBO welterweight title holder fights at 147 lbs.
Frazier thinks the Filipino champion won;t have problems making the catch weight. "Manny is a freak of nature athlete who has carried that weight very well for himself," he said.
I hope Manny finally beats Marquez convincingly to finally shut Marquez up. Marquez always thinks he should have won their matches. I hope Manny silences this guy once and for all. Marquez is gonna need plenty of urine to beat Manny now hahahaha if you forgot about Marquez urine drinking click this link to see.
Marquez drinking his urine
.