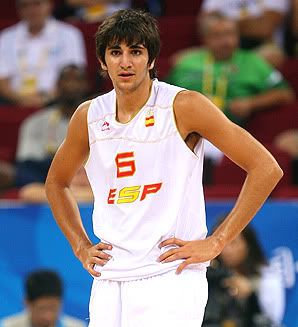 Finally Ricky Rubio will play for the T-Wolves. The Highly rated Spanish point guard will leave REgal Barcelona to play for the Minnesota Timber-wolves in the NBA next season.
"I have finally decided to go to the NBA. I have a dream that now can become a reality," Rubio told a news conference in Barcelona last Friday. The 20 year old Spain international was selected fifth in the draft by the Timberwolves in June 2009 but at the last minute decided to stay at home for two more seasons to be better prepared for the rigours of the NBA.
Rubio is the latest Spaniard to make the transition to the NBA, following brothers Pau and Marc Gasol, who plays for the Los Angeles Lakers and Memphis Grizzlies respectively. Rubio has been compared in appearance and style to American former NBA player Pete Maravich, a five time All Star, known as "Pistol Pete" and who died in 1988 aged 40.
I have only seen Rubio play, when US battled Spain, but was able to handle himself good against the NBA powered US team. I hope he can improved more once he will enter the NBA, especially his physique and shooting.