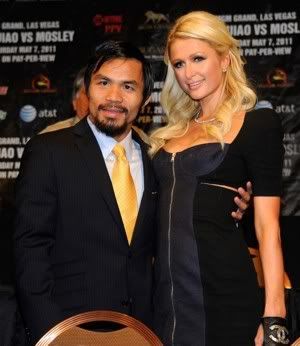 Paris Hilton, the sexy American socialite is a big Manny Pacquiao fan. Paris, along with her sister Nicky Hilton, trooped to the MGM Grand Arena in Las Vegas, Nevada on Sunday to watch Pacquiao's bout with Shane Mosley.
On Twitter, Paris praised Pacquiao for being "an incredible fighter" following his victory over Mosley. Manny Pacquiao won the fight via unanimous decision.
The Hilton sisters stayed after the bout to attend the post fight news conference. Paris also got to meet Manny's wife Jinkee. Paris tweeted:"Hanging out with @Manny Pacquiao and his beautiful wife Jinkee. They are such a sweet and down to earth couple! Love them! :)"
Paris reportedly had a hard time leaving the room as Filipino fans mobbed her. Paris also announced that she is coming to the Philippines this year, and she is planning to visit the country's prized fighter and his family.