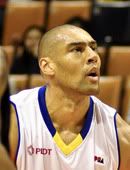 A sad news for Talk and Text fans and also for the pba fans.
Talk n Text player Ali Peek was shot by a still unidentified gunman in Mandaluyong City.
Reports said Peek came from a workout at RFM Gymnasium around 7 pm when he was attacked.
Talk n Text head coach Chot Reyes said in his Twitter account (@coachot) " Ali Peek was shot by an unidentified assailant in d parking lot of RFM gym at around 7 pm today. He's conscious & in stable condition now"
"The Talk n Text family asks d public to respect their privacy at this time. Further details will be released as they become available," Reyes further tweeted.
Citing initial reports, Chief Supt. Francisco Manalo, Eastern Police District director, said Peek was shot once at the nape using an unknown caliber of firearm at the RFM Gym in Barangay Buayang Bato at around 7:30 pm.
The suspect immediately fled after the shooting while Peek was rushed to the hospital for treatment.
Reyes said that while Peek is conscious, a bullet remains lodged at the player's neck, which would require a procedure to remove.
Were praying for you big guy, hope for your fast recovery.