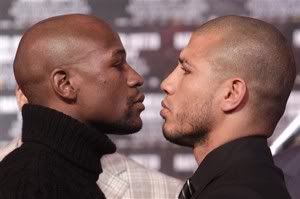 Since we can't see a Pacquiao fight against Mayweather, and I think will never ever gonna see this. Lets just take whats the next good thing to see, and that is Mayweather and Cotto fight this May 5.
Undefeated American boxer Floyd Mayweather Jr. is determined to add another belt to his collection when he fights Puerto Rico's Miguel Cotto on May 5 at the MGM Grand in Las Vegas.
"I have no doubt that my collection of belts will increase again and Cotto's reign will end on May 5th," Mayweather said during the promotional tour in Puerto Rico.
Mayweather and Cotto will fight at the junior middleweight division for Cotto's World Boxing Association championship.
It will only be the second time in his career that Mayweather fought above the welterweight division. He
previously
won the World Boxing Council junior
middleweight
title after beating Oscar De La Hoya via split decision in May 2007.