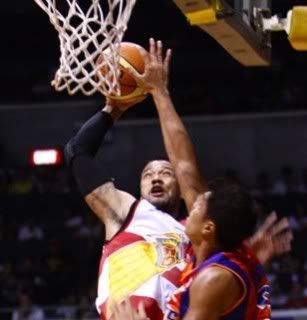 With the seat to the finals at stake, SMB forward Jay Washington, is taking his game to a new heights. Against the crowd favorite Barangay Ginebra, the 6 foot 7 forward shone the brightest for the Beermen in their on going duel in the PBA Philippine Cup. Putting up impressive numbers that made him the Accel PBA Press Corp's Player of the Week for the period of Jan 5 to 9.

In the first 3 games of the best of 7 series, Washington average 20.3 points, 8.7 rebounds and 1.7 blocked shots.

The 2005 top draft pick first scored 19 points in the first game and 29 on the second game, all of which SMB has won.

The Beermen though have lost game 3 last Sunday 95-78. Game 4 will be this Wednesday 5:00pm.